In Memoriam
Linda Foster (Gadd)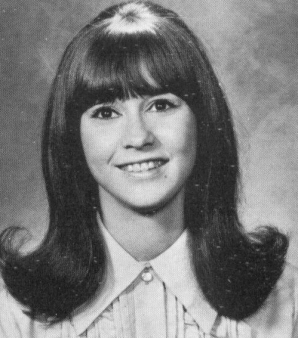 R.H.G.C. 2, 3, 4, N.H.S. 1, 3, 4, Eaglettes 3, Cheerleader 1, 2, 4, Deceased 2009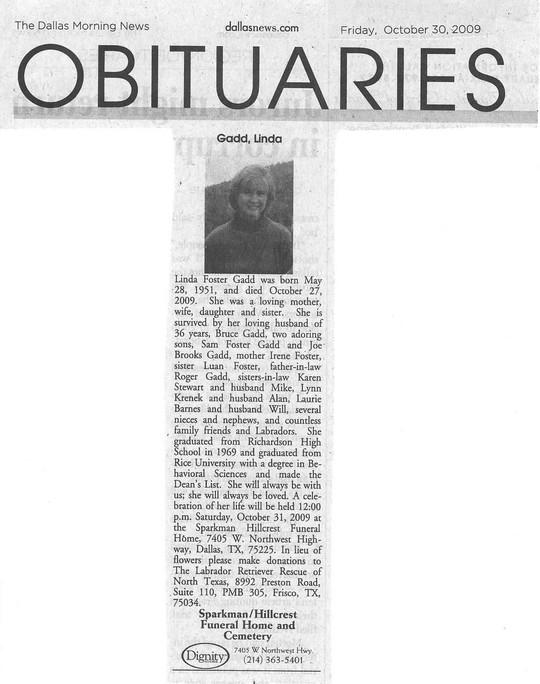 Brude Gadd's Eulogy of
Linda Foster Gadd
October 31, 2009
I've been experiencing a wide array of emotions over the last few days. Some I hope go away. And some I hope never go away. Many of us feared this day might arrive sooner than it should. Still no amount of forethought can prepare you for losing a loved one. I loved Linda Foster Gadd. I know that Sam, Joe Brooks, Luan, Irene and I shared her with most all of you and countless others that couldn't be here today. Everyone loved Linda. If you met her - you loved her, simple as that. There was no "wait 'til you get to know her". She wasn't complicated. What you saw is what you got and it was beautiful.
Many of you have known Linda her entire life, some maybe just a few years. Me, I only go back to when we were 12 years old. Probably half of this room has known her longer than that. Linda and I were married for 36 ½ years. As most of you know, we had these two beautiful boys late in our marriage and Linda used to laugh about how we lived our life a little backward. It seems we began enjoying children when some of our friends were beginning to enjoy retirement. Because we married so young and had so few of life's lessons under our belts, we grew and matured together. Kind of "on-the-fly" or "fast-tracked" as they say in the construction business. Fortunately she taught me many things when we were young and over the years. She taught me about the value of family and friendships. She taught me how we should raise our children and our Labradors. We practiced on Labs first, to make sure we got it right, I guess. She taught me about respect and about fairness and so, so many other things. But the best thing she ever taught me was how to love. She was the expert at that. Linda loved unconditionally. Many of you were the recipients of Linda's love.
And she loved lots of things. Labradors, the fall and winter months, fireplace fires, the mountains, especially northern New Mexico, the Rice Owls, the Cotton Bowl, Christmas and Thanksgiving, Halloween (and how ironic is it that we are gathered here on Halloween), and especially her friends. Linda actually loved to cook. She learned from the best, her mother Irene. She always told me when I'd compliment her on her cooking, that she would never be as good as her mother. And as good as Linda was and being the dutiful husband that I was, I said "yes, you're right, you probably won't ever be as good as Irene". My favorite was Linda's fried chicken and homemade cornbread. And who wouldn't want a piece of her famous cinnamon cake right now.
But what she clearly loved the most are these two young knuckleheads sitting right here. Your mom was so proud of the young men you two have become. And what you need to know is she had the guiding hand in making that happen. So while your mom's job is done, yours is just beginning. It is incumbent upon you two to take what she taught you and pay it forward. Go out in this big bad world and make a difference – that's what she wanted and demanded.
So hopefully all of you know Linda Foster Gadd is not any tragic figure. Her life is not defined by the last few weeks, the last few years or the last decade. She is defined by what was in her heart. And I know you all know who that person was. Linda was the single most caring, compassionate, loving, intelligent and beautiful woman I knew. Please remember her for who she really was. Now when I close my eyes, I see God's perfect work – the signature beautiful red hair, the freckles, the sea green eyes, that radiant smile. I hear that terrific belly laugh when she was tickled (and that was often). I see the wonderful mother, wife, sister, daughter and aunt that she was. My mother once told me many years ago, when no one else was around to hear, at our house on Waterview, probably 35 years ago, and I can quote it. "the closer you get to Linda the prettier she is". That stuck with me all these years because for a long time I thought she was talking about her physical beauty (and she was beautiful). And maybe she was, I don't know. I can tell you now that it was true about Linda literally and figuratively.
Again, I want you all to remember Linda for who she was. Think back to your fondest memory of her and bring that forward, plant that image in the front of your brain. And make sure it makes you smile. That's what she deserves. She is now happy. She is now home and in God's loving arms. She is now free of the demons. And she deserves it.
I don't know how we are ever going to be able to thank everyone. The outpouring of support and love is beyond overwhelming. Linda touched many lives. From our Richardson family, to our Highland Park family, our baseball family, our Rice family, our Cotton Bowl family, our Aerobic Center family – you all need to know that your help, your kind words, your emails, your phone calls, your food and mostly your love has been what has gotten Sam, Joe Brooks, Luan, Irene and I through these last few days. It has touched our hearts. We will never be able to properly thank you.
Thank you for being here this afternoon and celebrating Linda Gadd's life.