Review of 40th Reunion
We scheduled several events, and a few of us added an unscheduled event. Here's a wrap-up.
PEP RALLY—Friday Morning
Brenda Brown Dickey, Lance Cantor, Steve Healy, and I attended the RHS pep rally on Friday morning in the gym, and, man, was that a shock! It was a huge production with lots of involvement by diverse groups—dancing, gymnastics, along with the normal cheers. And loud! The football team captains were delivered inside the gym on the backs of Harleys! I hate to admit it, but the pep rallies are a couple of notches above the '69er version.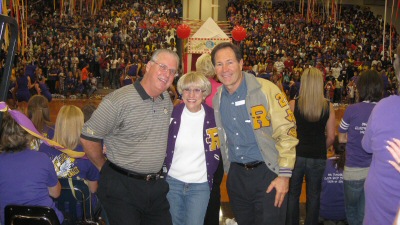 TOUR AND PARADE—Friday Afternoon
Over thirty of us joined the Tour of the school building. It is more pleasant physical space than when we were there. The floors have recurring, overlapping squares of purple and gold, the halls are brighter, and the lockers are purple. It's much more inviting than when we were there (except for the requirement of leaving your ID at the counter before you can enter). There is a lot of new space, including a large entry atrium, a commercial kitchen for the culinary magnet program, an additional gym, a huge band room, a small theatre, and more. The library seems especially expansive, and there are large computer labs. And the Eagles' Nest has survived! In short, Thomas Wolfe was wrong. You can go home again. And it's better than you remembered.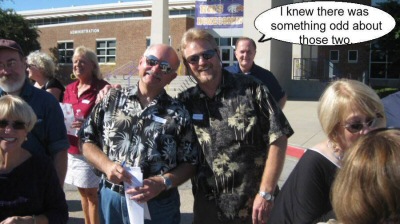 Most of the Tour participants stayed for the Parade. Compared to our era, the Parade had much broader participation—many different schools and other entities entered floats, although most were only floats in the loosest sense of the word. I must say that our floats were much more artistic. I didn't see any chicken-wire-and-tissue productions. And I was particularly fond of the clowns in our parade!
TAILGATE PARTY, HOMECOMING GAME, AND AFTER-PARTY—Friday Afternoon
Most of the Tour and Parade watchers stayed for the Tailgate Party, and many more 69ers joined us. David and Karen Kennedy Seidler brought tables, table cloths, and lots of goodies to eat. Hull Barbee, Janet Hambright Carter, and others brought drinks, and we had a great time. About 65 of us attended the game, which the Mighty Warbirds won in convincing fashion. In fact, it was such a runaway that most of us left before halftime to repair to the Doubletree Hotel's bar, where about 85 of us became re-acquainted, with many staying until the wee hours of Saturday morning.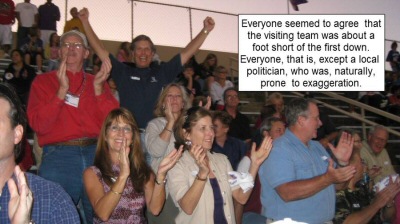 TRIBUTE TO FALLEN EAGLES—Saturday Morning
The Tribute was the sleeper event of the Reunion. I thought we might draw 20-25 attendees, but the actual count was 69. Yes, 69, and we counted twice. (For a copy of the Tribute program, click here.)
Lance Cantor emceed the Tribute, and Steve Partlow, Steve Keene, and I shared some thoughts about the loss of those we love and our thankfulness for those who are still with us. (For a copy of my remarks, click here.)
Several attendees shared memories about our departed classmates, the most touching of which was from Bob Fleming. He related that he and Randy Combs had tried to attend Randy Curtis's funeral in Arkansas, but that bad weather and flight delays kept them from making the trip. Bob revealed that, for Randy Combs and him, the Tribute was a proxy for the funeral they missed.
GOLF OUTING—Saturday Morning
Lance Cantor organized the golf outing, and over 20 golfers (well, I'm not sure all of them were actually golfers) attended the event at Richardson's Sherrill Park Golf Course. Winners of the scramble event were…..well, nobody. Bruce Anderson's team scored -11, and Joyce Skelton DeZaiffe's team scored -9. However, Bruce's team reputedly had an extra player for 9 holes, so I think they called it a tie. I guess the "air trophy" will have to stay in the display case for five more years. I am told that Mark Mauldin drove a par four. (Lance Cantor did also, but it was 40 years ago, and he was in a muscle car at the time. The greens are still a bit lumpy.) Anyway, a good time was had by all, except maybe Tommy Thomas, who somehow injured or re-injured his Achilles tendon and hobbled around on the back nine. (Golf injuries are the most difficult to explain with a straight face, except perhaps for the rare breaking of one's foot while swimming, which I did in the company of the same Tommy Thomas at Canyon Creek Country Club pool in 1963. Don't ask! Suffice to say that Ed Norton still holds a grudge against me for being forced to carry my schoolbooks at St. Marks while I was on crutches. OK. I know that didn't have anything to do with the reunion, but it was in parentheses.)
MAIN EVENT—Saturday Night
Brenda Brown Dickey took charge of the Main Event, and what a night it was! Attendance was right at the 200 mark, and everyone seemed to have a great time catching up and remembering old times. (For a flirt like me, it was paradise—lots of good lookin' women, and only a bunch of old geezers for competition.)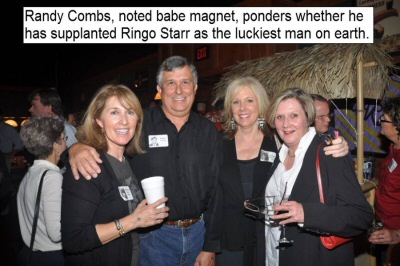 As a keen observer of personhood and a student of anthropology and sociology (not), I experienced three especially interesting revelations, all focusing on the superficial, as is my wont. First, as a group we looked like a reunion of the class of '69 should look. Well, at least on average. That is, most men looked like they were from the class of '59 and most women looked like the class of '79. Second, and closely related, casual observation revealed that most men get grey hair, and most women don't. Why is that? Perhaps it is related to the Y chromosome. I dunno. Third, just about all of my guy friends "married up." (And almost all of them both admit it while applying the same observation to me).
Now, I know what some of you erstwhile co-ed smart-Alices are thinking: All men marry up. My response is…well, uhm….what I mean is, uhm….well… whatever. Wait a minute! I know! Not all men marry up. At least not in Massachusetts, Connecticut, Maine, Vermont, and, starting in 2010, New Hampshire! (And now, back to the actual topic.)
I especially enjoyed checking out Bob Kirkpatrick's video, which featured music of the '60s, lots of photos from RHS annuals, and even clips from music videos. (Note that the four-DVD set is available for sale for $40, with all proceeds except for the cost of the blank disks going into the account for the next reunion. Click here to order.) Paul, is there some sort of order form that we can use? There's no doubt that the '60s music was both fab and groovy, and, eventually, far out. Unfortunately and fortunately, it was difficult to hear over the din of all of the animated conversations.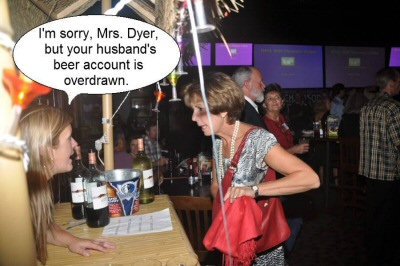 My only disappointment about the Main Event is that the vast majority of women seemed to ignore my earlier (and infamous) "cleavage is good" memo concerning the appropriate garb for the evening. Ironically and sadly, some of the guys seemed to think that the memo applied to them. Not a pretty sight.
Actually, my only disappointment was that the PA system was not powerful enough to allow me to thank the many people who made the whole weekend an unqualified success. I hope you will click this link to read THANK YOU! THANK YOU! THANK YOU! Also, Bob K created a separate Tribute to Fallen Eagles video that was shown at the Main Event but there were lots of distractions. You can see Bob's Tribute to Fallen Eagles video/slide presentation by clicking here.
PHOTOS
You'll see the links for Reunion photos on the home page. Did you take any photos? Please forward them to me, and I will add them to the list.
Feel free to use the group photo for any purpose you desire (although a dart board is not a recommended use). Click here for the Photo Legend—(a new window will open with the photo). To find out who someone is, simply move your mouse over their face and a context box will appear with their name. Please contact me for a Word file with four panels that provide names of the vast majority of those who were in the photo. If you can fill in the blank for one of the missing names, please email it to me at cordelldm@aol.com.