Thank YOU!
THANK YOU! THANK YOU! THANK YOU!
Now it is time to express my gratitude.
First, thanks to everyone who attended any event. You are the ones who made the 40th a success. The title says it all: re-union. It's all about bringing our class together, and without your participation, it couldn't have been a success.
Second, I had the most wonderful experience at the Main Event. Someone, possibly Sherri McCormick, started a fundraising campaign to make sure that those of us who fronted money for the reunion could be reimbursed. All the sudden, people were stuffing money in my shirt pocket. I even found a twenty dollar bill in my pants pocket. I didn't actually feel a hand putting the money in my pants pocket, but I do recall a vague, unexplained sense of happiness at some point during the evening, which is why I really, really hope the benefactor was a woman. (I looked at the twenty for five minutes in hopes that there was a hotel room number on it, but, alas!) With all the money being thrust on me, I felt like some weird combination of a lap dancer and James Stewart at the end of "It's a Wonderful Life." By actual count, $179 was stuffed in my clothing by the end of the evening. With these funds and with the pricing of the Main Event, we were able to cover expenses and put aside some seed money in a bank account for the next Reunion. I have many memories of the weekend, but that experience will always be one of my favorites.
Now, there are several people who deserve special recognition.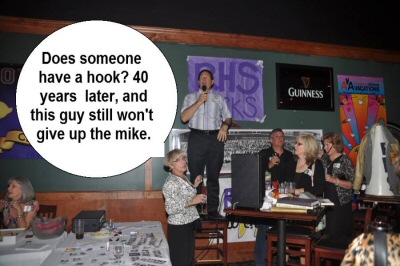 BRENDA BROWN DICKEY. What a joy! She not only did the heavy lifting for the Saturday night Main Event, but also negotiated the hotel arrangements, including the post-game function Friday night. She worked with Fox & Hound management, created the menu, hung the posters, and I'm pretty sure she swept the parking lot afterward. I have admired this energetic "girl" since fifth grade, and we served together as sophomore class officers. But I didn't fully appreciate the fact that she's like some strange force of nature with her own gravitational pull. She was my "reunion wife" (without the, ahem, fun activities) throughout the planning stage, and now I'm suffering withdrawal.
LANCE CANTOR. Lance and I started working on the reunion in October of 2008. He took charge of the school tour/parade review, tailgate party, golf outing, and Tribute to Fallen Eagles, all of which had excellent attendance. He emceed the Tribute and offered thoughtful reflections. Wife GRETCHEN CAUDELL CANTOR was also a force in the Tribute planning. Lance is full of ideas and energy—we would have had about thirty events during the reunion if he had had his way. He always kept the ball moving forward.
BOB KIRKPATRICK. Bob created the fantastic video for the Saturday night Main Event. I can't imagine the amount of time he spent scanning/cropping/recording for this visual memory of our school days, including historical events that shaped our lives and our world, and some of the iconic places in our little hometown. Bob was accomplishing all of this while going through a family emergency with his father, and the hospitalization of one of his sons. He pulled several all nighters, some of them with Brenda. (Wait a minute. That didn't sound right.) Which reminds me…thanks also to VALERIE FLANDERS KIRKPATRICK for input and support.
PAUL GALANTAY. Paul created our www.RHS1969.info website. He not only designed the website, he also hosts it on his own server. The site and its database helped us organize and publicize Reunion activities and it will help make the next Reunion easier to manage. We intend to generate electronic address and memory booklets with that will help all of us stay in touch with the class and with each other. Thanks also to classmate JANET MOSS GALANTAY who convinced her non-classmate husband to "volunteer."
PHIL DYER. Phil commissioned the beautiful banner that we displayed at the tailgate, the game, the Tribute, and the Main Event. He also obtained the excellent enlargement of our class photo, and did some heavy lifting at the registration table on Saturday night. Phil is the same enthusiastic, hard-working leader that he was at RHS, and Plano is fortunate to have him as mayor.
DAVID GRANT. David was everywhere. He was a fabulous detective, finding lost classmates. He participated in the Tribute program, and even left the Main Event to buy more nametags after we ran out. He was very supportive, offered good ideas, and was always willing to pitch in wherever needed.
DAVID and KAREN KENNEDY SEIDLER. David and Karen graciously volunteered to bring tables and chairs to the tailgate party, but they also brought a variety of fabulous hors d'oeuvres, serving pieces, 6 flower arrangements for the table, soft drinks, and table covers. Karen was also productive in finding lost classmates.
JANET HAMBRIGHT CARTER and MARSHA HENSEL JOHNS. These BFF's were always ready to help with planning, providing photos for the video, tracking down classmates, decorating for the Main Event, helping with crowd control, and showing everyone how to have a good time!
MARTHA MIZE MARETH. Martha offered her house for one of our organizing meetings and helped track down classmates.
DEBBIE MOSES DAILY. Deb took part in both planning meetings, tracked down lots of classmates, and helped with decorating for the Main Event.
STEVE PARTLOW and STEVE KEENE. The two Steves were outstanding in sharing their remembrances at the Tribute. They helped all of us deal with the loss that we feel at the deaths of friends and family.
BILL SIELING. Bill pulled duty at the registration desk (along with wife KATHY), including calling volunteers beforehand, and he helped with the Tribute program.
DARYL SUMMERS. Daryl chaired the 30th Reunion. His input and advice were invaluable in the early stages of planning for the 40th Reunion. He helped me to anticipate some of the issues that would need attention.
JEAN WARD. Jean scanned much of the 1969 annual and the address/memory book from the 1999 reunion and posted them, along with lots of 1999 and 1969 photos, on his own website. We were able to make use of much of his work in preparing some of our material for the class website.
CRAIG DUFFY. Craig offered to take the group photo of the class during the Main Event. It required a lot of effort and time to set up for the shot, and the result was outstanding.
ED NORTON. Ed arranged to convert the Punography Limited film from 8mm to digital video for inclusion in Bob Kirkpatrick's video.MEGAN WAMSLEY and SARAH STEPHENS. These two young ladies "manned" the registration table all night, and significantly lowered the average age in the room.
Others who contributed in various ways include Hull Barbee, Paula Whitfield Jameson, Roxanne Baxter, Cynthia Woodward, Melinda Nelson Moody, Janet Veerman Harvey, Bruce Anderson, Jim Bedwell, Ron Knight, Pat Cowlishaw, Sandi Abbot Newton, Sheila Walker Duffy, Holly Epstein Holly, Faye Mallow Price, Steve Gardner, Fred Zeiller, and many others who deserve notice, but whose acknowledgements are victims of my lame memory. (If I left you out, please contact me and I will add you to the list.)
Anyway, I am in their debt, and in yours, for making the 40th Reunion such a wonderful experience for me. Thanks to all of you from the bottom of my heart.