In Memoriam
Duane Anspon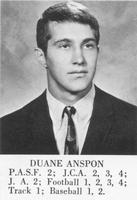 Duane passed away suddenly and unexpectedly Thursday evening July 21, 2022 from a heart attack.

Duane Anspon
July 30, 1951 ~ July 21, 2022 (age 70)
Obituary & Services
Duane Anspon, 70, of Pittsburg, Texas was born July 30, 1951 in Chicago, Illinois to Bert Winfried Anspon and Emma Louise Rust Anspon, and passed away on July 21, 2022 in Sulphur Springs, Texas.
Mr. Anspon was a deacon at Purley Baptist Church and was a retired Teacher's Aide from Pittsburg Independent School District. He was also a member if the Gideon's.
He is survived by his wife, Susan Rhoades Anspon of Pittsburg, Texas his sister, Bonnie McAllister of Mt. Vernon, Texas, several nieces and nephews.
The family will receive friends between 3:00-5:00 P.M. Friday, July 29, 2022 at Erman Smith Funeral Home. There will be a celebration of life 10:00 A.M. Saturday, July 30, 2022 at Purley Baptist Church with Pastor Pablo Guzman officiating. Burial will be at Purley Cemetery.
Donation may be made in his memory to Purley Cemetery.
To send flowers to the family, please visit our floral store.