Click here for a Review of the 45th Reunion
October 3-4, 2014
---
Click here for a Review of the 40th Reunion
September 25-26, 2009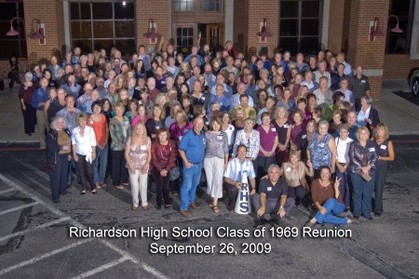 (Photo by classmate Craig Duffy)
Click here for a larger image.
Click here to find out who is in this photo.
Click here to open a pdf of the photo with a legend.
---
45th Reunion, October 3-4, 2014
I would like to thank everyone who helped with the Reunion, especially Brenda Brown Dickey and Phil Dyer, my two BRFFs—Best Reunion Friends Forever (although they may object to the second "F"). Also, special thanks to Phil Fielder, Tommy Thomas, Lance Cantor, Steve Keene, and Bob Kirkpatrick, all of whom had significant responsibilities for our events. As always, I would like to thank Sandra Spieker Ringo, my webmaster/adviser.
Thanks also to everyone who contributed photos, especially Marc Robins of Marc Robins Photography in NorthPark. Recruited by classmate Billy Hines, who is general manager of NorthPark, Marc took photos throughout the Main Event, even printing photos on site. He took a group photo for us, and he even donated his services! Phil Huber also contributed photos and assisted Sandra with some aspects of posting photographs. Others contributing photos were Tommy Thomas, Karen and David Seidler, and Ruth Wallace Stauffer.
All photos are now posted on the website. You will see our 45th Reunion group photo above, in the middle of the page. We moved the 40th Reunion group photo down on the page. Don't look too closely at the respective photos for changes in the appearance of some of us! Just assume that we are aging gracefully. To see photos from some of the events, click the link in the left margin: 45th Reunion—2014.
We were very pleased with the 45th Reunion events. (Click here to read the entire review.)
ANNOUNCEMENTS
| | |
| --- | --- |
| • | Special thanks to classmate Sandra Spieker Ringo whose extrardinary effort made this website possible. |